If you are wondering how to earn money online as a student, we've got 60 ideas for you! Students are notoriously broke and have jam packed schedules, and working a part time job (or full-time job while attending school part-time) is a real challenge.
Are you a student and want to earn money from home? Is it hard to find a job? Here we have some suggestions to help you start earning money while at school. Many can work around your schedule, or around the school's schedule. We all need a little extra money to make ends meet. Ideas for making money as a student are everywhere. We take a look at 60 different ways to make money online as a student. Here is a list of ideas for ways to make money online. (These ideas will help you to start thinking bigger when it comes to online income streams!)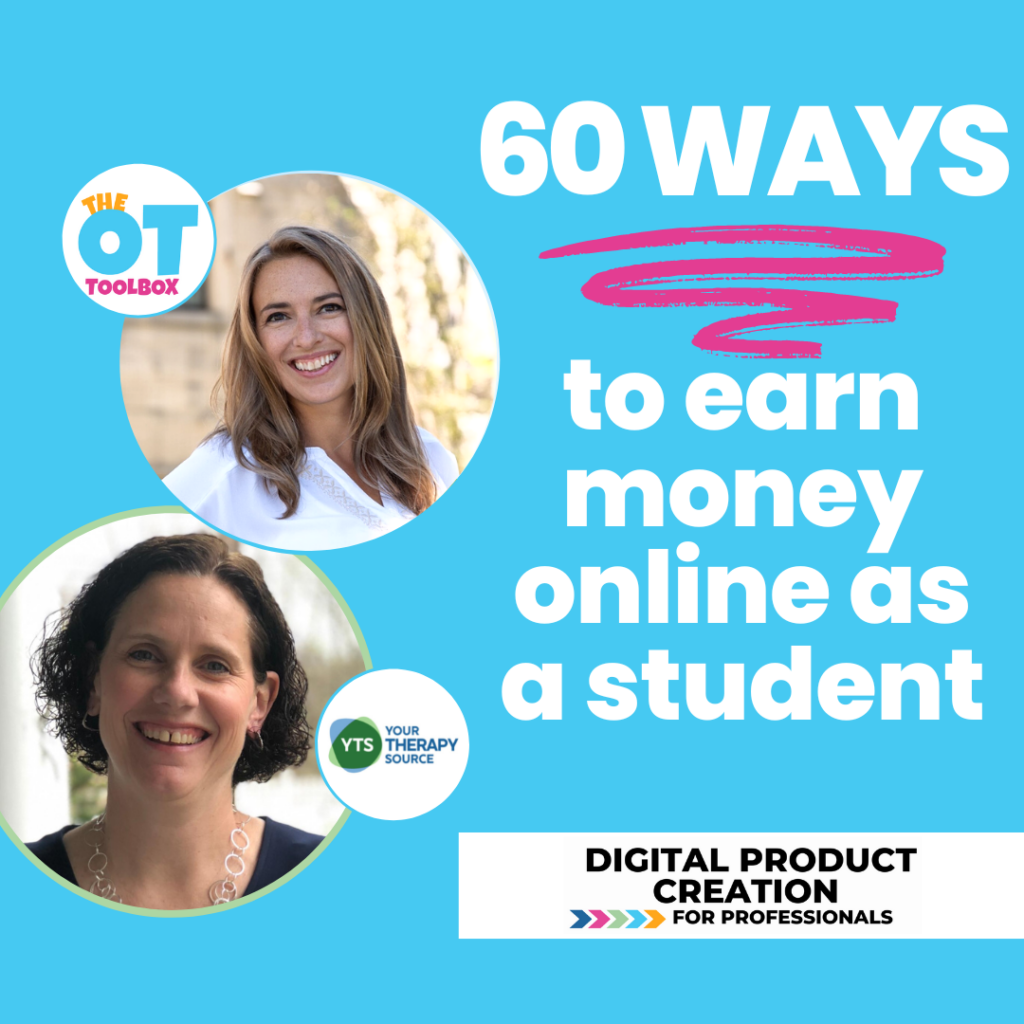 How to Earn Money Online as a Student
Making extra money as a student can be a great way to offset the cost of books, classes, and your dorm. In fact, there are a number of ways to earn money online for students.
Of course, the amount of money you can make will vary depending on your skills and effort, but there are definitely ways to make a decent income on the internet. The best news is that you can make the income of a full-time job from the amount of time you put into a very part-time job.
In the video below, on how students can earn money online, we talk about all of the ways that we've seen success in this area.
In a recent blog post, we discussed side jobs for teachers. While students are on the other end of the education spectrum, teachers and students are both in the same arena. Both are very familiar with education, how to best learn, and how some educational materials work, while others simply do not.
Because of this familiarity, students can very much use what they know to sell online.
Benefits to Earning Money Online for Students
Beyond the most basic benefit of earning extra cash, there are many benefits to working online as a student.
Check out this quick list of reasons to explore earning money online as a student:
You can earn money passively- Working online as a student allows you to earn passive income while you are in class, while studying, when sleeping.
Earn extra money for college costs- Online revenue sources supplement financial needs that students know. You can earn money for books, school supplies, classes, room and board, gas to drive to your classes, and to supplement tuition costs.
Working online builds your resume- As a student you can develop skills in a niched and targeted area that perfectly aligns with your future career. With the vast amount of information available online, you can find digital content creators in every field and niche. Explore the needs out there and find the online businesses that align with your interests and future career. Those small businesses likely need freelance help, or are hiring through Fiverr. You, as a student, could be their missing link. Not only this, but you are also building your communication skills with a part time job that has exponential benefits!
Explore various aspects of your career- Students have the world ahead of them! But once school ends, the student loans begin. As a student, you can work online to explore various avenues where you may want to end up in your career. Use the time in school to get clear on where you want to land as a professional out in the real world…and save precious days/months/years after school from that job search or even switching jobs.
Fine tune your time management skills- Future employers will appreciate your ability to juggle schooling and the requirements of work. You'll develop skills in task completion, planning, organization, and other executive functioning skills that employers love to see.
Develop initiation- To work in the online world, it takes motivation. Building your skills in battling procrastination is just one more side benefit to working online as a student.
Work anywhere- As students, time is of the essence! You have limited time to travel to and from classes so driving to a job, possibly paying for parking, and driving back from work takes up precious time that you need to study and complete projects. As an online student worker, you can work in your dorm, at home, and with no overhead like work clothing or other costs.
Work at any time of the day- Students working online can fit the work into your own schedule that works for your needs. Work in the early morning, late at night or even on school breaks when off campus. The flexibility of working online as a student is valuable!
Earn money online without investment for students- Students are typically strapped for cash, so finding work online that requires no investment is key. You can use resources and platforms that allow digital content creation without an investment. All you need is a computer and an internet connection!
Explore research opportunities- By working online you have the opportunity to expand on your research interests. Working in the real world in a niche aligned with your field of study can open up doors in your future. As a student working on the internet you can sell what you know using the school research library and access to the individual or company you are working with.
How to Earn Money Online as a Student
Ok, we know the reasons WHY making a side income while attending school is important, but exactly HOW can you make this work?
Below is a list of 60 ideas on how to earn money online as a student. Select just a few ideas to get you started in selecting the best online jobs for you.
Start a blog: If you're passionate about a particular topic, you can start a blog and earn income from advertisements through Google Adsense or affiliate marketing. Start with our post on how do websites make money for more information.
Do online tutoring: If you have expertise in a particular subject area, you can sign up to provide online tutoring services to students.
Sell your photos and videos: If you're a talented photographer or videographer, you can sell your photography and videos online.
Do freelance work: There are a number of websites that connect freelancers with businesses that need their services.
Create and sell an e-book: If you have knowledge or expertise. Sell on an online marketplace (see the list below.)
Work in graphic design to create social media infographics.
Make TikTok videos for businesses using your phone. Video editing is a great part time job that many businesses would hire out.
Create reels and stories for businesses to use on Instagram or Facebook.
Create T-shirt designs and sell them on Red Bubble.
Work as a social media manager to support online businesses.
Take or create online surveys to gather information for small businesses. Survey Junkie is one option for this.
Explore Fiverr for freelance job options.
Explore Upwork for gigs earning side income.
Create logos or graphics using Canva.
Get started with freelance writing for bloggers.
Proofreader- Check spelling and grammar for writers creating online content.
Sell your notes as tools for other students.
Create handouts, worksheets, and digital tools for selling on TPT. Here is information on how to sell on Teachers Pay Teachers.
Make digital resources to sell on Etsy.
Create materials based on what you've learned as a student to sell as a vendor on Your Therapy Source and The OT Toolbox.
Work as a virtual assistant for online businesses.
Create graphic design ads for online companies.
Social media manager- Create social media posts for companies that have social media accounts.
Do SEO research to support small businesses showing up in search engine results.
Consider data entry jobs.
Create a course on Udemy.
Sell a course on your own website or on a website like The OT Toolbox and Your Therapy Source.
Create audio files for businesses that create written files.
Create YouTube videos for businesses.
Work in transcription.
Compose tweets for Twitter for small companies.
Learn to use Wordpress to contribute to companies with blogs. Bloggers are often looking for content writers.
Complete internet research for bloggers or online websites
Create an Amazon store.
Create an Instagram page or TikTok channel that provides information. Offer affiliate links to support your content.
Think about what you excel at- Create a mini-course on that topic. Sell it on various online marketplaces.
Think about the aspect of student life that you are good at (study skills, note taking, multitasking, organization, etc.) Use that topic to create printable organizers and planners in Canva.
Create themed worksheets for kids: crossword puzzles, word searches, mazes, etc. Sell them online.
Video Gaming on Twitch.
Create a Class on Outschool
Online Arbitrage for Amazon or Walmart
Create spreadsheets with formulas for different small businesses
Create an app.
Start an Instagram following about a certain topic and create merch to sell using print on demand services.
Create a YouTube channel and promote affiliate products.
Edit photos using Photoshop for people running social media businesses or blogs.
Create tutorials and use affiliate links for the lists of materials or tools needed.
Create a step-by-step list and teach how to do something (painting, cartwheels, etc. The sky is the limit).
Start an online summer camp for kids (basketball, art, cooking, etc.) with Zoom calls and challenges.
Teach a class to children on Khan Acadamy.
Teach specific skills on SkillShare.
Self-publish a book on Amazon. Read here on how to make money on Amazon KDP.
Create a course and sell it on Alison.
Ghost write blog posts.
Cook recipes for food bloggers and video record the process to create social media content and videos.
Explore print on demand companies to sell stickers, tote bags, t-shirts, laptop covers, mugs, water bottles, etc.
Earn rewards on sites like swagbucks
Become a mystery shopper as a service for online shops.
Do surveys online on survey sites that offer you a bonus for every survey completed.
Places to Sell Online for Students
In the list above, you may have noticed several recommendations about creating resources and selling them online as a stream of income for students. It might be a good idea to have a streamlined list ready to go where you can list your digital products to sell online as a student.
After you have a digital product created (or in mind), take a look at the list of places to sell online. Some of these online marketplaces will suit your needs better than others. The list of best online marketplaces each have their own benefits…and own audiences.
And knowing that, it's a way for students to diversify their streams of income while earning money online as a student.
That being said, you will definitely want to have a presence in as many of these online marketplaces as possible for several reasons:
Earn from several online sites at once- Selling in several different places allows you to earn money online from several different streams of income all at one time. You can multiply your income stream with a single product.
Diversify- If one company or website closes, (or their algorithm change, terms change, etc.) you still have your products in the online space in several other places. Your eggs are not all in one basket and you can still earn money passively.
Build an authority- Selling in several different places allows you to create authority over your products and resources. Whether you are selling your services (graphic design or social media content), digital goods (ebooks, worksheets, handouts, courses), or physical products (crafts, artwork, clothing, mugs, posters, etc.), this concept is true! By having a presence in many different places, you build up your brand awareness. We cover how to do this in Digital Product Creation for Professionals.
Expand your reach- Each online space has different audiences, allowing you to expand your reach, and those you support with your sellable goods.
Do the work once and multiply the results- When you create a resource or service to sell online, you will need to create the marketing materials to actually sell the service or resource, too. This includes the copy, or the actual words you use to get your audience to buy, pricing considerations, graphics, and even ads. You can create these marketing materials once and use them over and over again to reach different audiences in each online marketplace.
Best places for students to sell online
It makes sense as a student to make money online in as many different ways as possible using a single product, right? If you've got an idea in mind for a digital resource the next question you are probably thinking is how to earn money online as a student while selling on the internet?
So, what are the best places to sell online?
1. Your Therapy Source- Sell your digital items to an established market. Earn passive income for each online sale of your product. Each sale has a small fee that covers your hosting, delivery, customer service, marketing, and audience promotions. Payments are made monthly through Paypal and are great for passive income.
2. The OT Toolbox– When you sell your digital products on The OT Toolbox, your product is featured to our established audience, presented to our newsletter list, and marketed on social media. Earn passive income through each sale of your product. For a small fee that is a portion of each sale, we cover your hosting, delivery, customer service, marketing, and audience promotions. You'll receive payments each month through Paypal and can earn even when studying!
3. Amazon- This is a go-to marketplace for many people. Amazon has various options for sellers including site shops, affiliate recommendations and product listings, drop shipping, print-on demand options, selling products as a private label, merch stores, and even by building Alexa skills.
4. Teachers Pay Teachers- Much like selling on The OT Toolbox and Your Therapy Source, when you list products on Teacher Pay Teacher, an established audience can access your digital resources.
5. Etsy- Etsy is another online marketplace. Originally a space to sell handmade goods, it's now moved into the digital world as well. However, you can also create products such as T-shirts, coffee mugs, stickers, etc. with your branding or related themes. These can be sold on Etsy Print on Demand.
6. Gumroad- This is a all-in-one service. List digital products, create an online store, and start selling immediately. This is a great tool to use along with a website or even a simple social media account.
7. Shopify- This is another all-in-one online sales tool, with the additional feature of website creation. You can set up a website, shop, and start listing products in a weekend using Shopify.
8. Facebook Marketplace- List physical products or digital resources on Facebook. Have an audience already? Start promoting your marketplace. Don't have an audience yet? Start creating reels and stories and build one.
9. Instagram Marketplace- Similar to Facebook, you can go the Instagram route, too. The nice thing is that you can double down your part-time job by featuring the same content on Facebook that you post on Instagram and reach two different audiences.
10. Pinterest- Pinterest has a marketplace option, too. Create pins that lead to your website or other online sales, or feature products in your product pins.
11. RedBubble- Have ideas? RedBubble is the print-on-demand tool to support your creativity. This is a nice place to support your online earnings because it's just one more way to diversity your income streams. Buyers can search for items and your products can turn up in the search results.
Final suggestions for how to earn money online as a student
So, which of these suggestions sound like a way to earn money online? Students have many options when it comes to a part time job that fits into a busy student schedule. Whether you are studying, attending class, participating in extracurricular activities, you can earn passive income while in school!
There is a lot of information here, but remember this:
Search engines are supplying buying readers with information they need to solve their problems, and your digital products or online services can be the result!
As a student, you are building your resume with online work and you can do it while still in school! These are all great short term income ideas that can even lead to longer lasting income after graduation, too!
Want to get started with selling digital goods online but don't know where to begin? Check out the Digital Product Creation for Professionals toolkit. Set up like a self-directed course, this set-by-step program walks you through refining your ideas, developing them into feasible products, and creates a streamlined system so you can start selling in a weekend. Put your ideas into the product templates and use the hundreds of social media templates to start promoting. Check out The Digital Product Creation for Professionals program today.