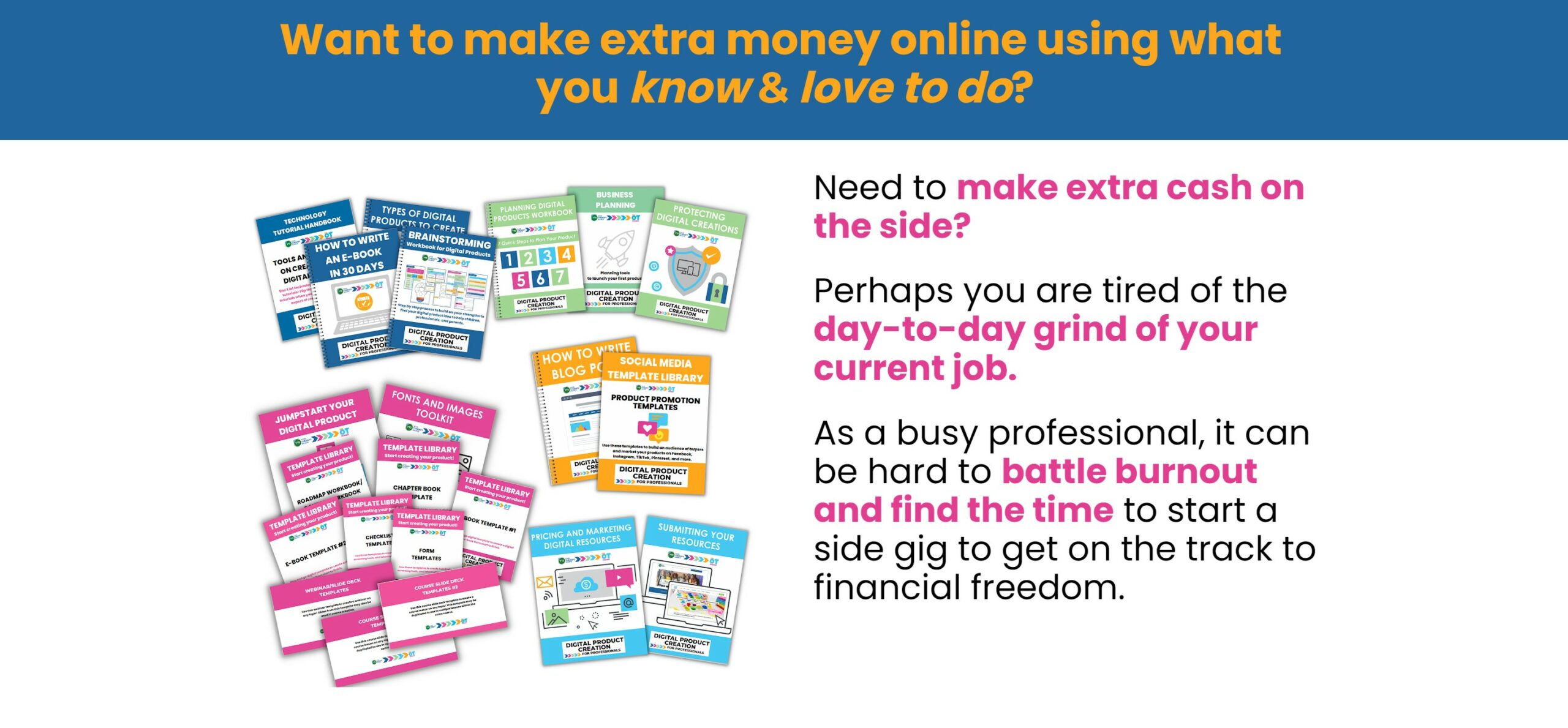 Need to make extra cash on the side?
Perhaps you are tired of the day-to-day grind of your current job.
As a busy professional, it can be hard to battle burnout and find the time to start a side gig to get on the track to financial freedom.
We're unveiling something BIG that will help you jump-start your side hustle!
If you've ever wanted to sell digital products online, The Digital Product Creation for Professionals Toolkit will get you started today.
Created by two content creators who have sold millions of dollars of digital educational resources, you will learn from seasoned online entrepreneurs.
Not only that, but when you access the resources and tools inside the Digital Product Creation for Professionals Toolkit, you'll also get your digital product in front of over 300 thousand email readers, over 2 million website users, and over 3 million social media users, instantly.
Instant access to all of the tools, supports, and templates so you can plug-and-go…and then get your digital product in front of millions of eyeballs!
What if you could access millions of online readers instantly…so your product could be marketed to an audience that wants to buy the resources you've created?
Margaret at Your Therapy Source and Colleen at The OT Toolbox have been selling digital products to professionals like therapy providers, social workers, educators, counselors, administrators, parents, and others for over 22 combined years.
➡️We provide:
The knowledge on how to create digital content that users really need
The platforms to sell products so you don't need to mess with technology
The website traffic so you don't need to fight Google for online rankings
The email readers so you don't need to build an audience
This program outlines exact strategies to take you from idea to passive income!
Using what we've spent years learning through trial and error, you can hop in with your idea, create the digital tools that others like you really need, and start making money selling your resources online.
All you have to do is be creative, hit submit, and then repeat…
…And then sit back and watch as the passive income rolls in month after month.
Every digital creator needs to start somewhere. Get ready to take actionable steps to sell digital products online.
Digital Product Creation for Professionals is a step-by-step process that takes you from your idea to selling your resources online based on your knowledge.
Not only will this Toolkit walk you through the process, but the creators also have two online stores where you can list your products for free to reach their established audience in the educational space.
You can sell on our websites or anywhere else you choose. You own all the rights to what you create!
Start your side hustle in a weekend with your computer! You have all the tools you need to get started right now!
Don't doubt yourself – you have the experience to help more students and families today.
The Digital Product Creator Program includes:
➡️Product Development Program Includes:
Types of Digital Products to Create
Technology Tutorial Handbook
How to Write an E-Book in 30 Days
Brainstorming Workbook for Digital Products
➡️Business Planning Program Includes:
Business Planning Tools to Launch your Product
Planning Digital Products Workbook
Protecting Your Digital Creations
➡️Product Templates Program Includes:
Fonts and Clip Art Library
TWO E-Book Templates
TWO Course Slide Deck Templates
Webinar Slide Deck Templates
Workbook Templates
Form Templates
Screening Tools Templates
Chapter Book Templates
Word Document Worksheet Templates
➡️Selling Program Includes:
Pricing and Marketing Your Digital Resources
Step-by-Step Action Plan for Submitting your product to The OT Toolbox, Your Therapy Source, Etsy, and Teacher Pay Teacher
➡️Digital Marketing Program Includes:
Marketing tools for your new product: How to Write Blog Posts that Sell
Massive Social Media Template Library with plug-and-go templates for Facebook, Instagram, TikTok, Pinterest, YouTube, and more!
BONUSES!
➡️Includes COMMERCIAL USE files:
Doodle Frames – PNG files great for worksheets
Glitter and Stripes Backgrounds
Colorful Dots Backgrounds
Pastel Squares Backgrounds
➡️EXTRA BONUS: TOP SECRET LIST OF MOST NEEDED RESOURCES AND IDEAS PDF
Maybe you have thought about starting a side hustle in the past but started making excuses like:
❌ "I don't have enough time."
✅ The Digital Product Creation for Professionals can create digital products in a few hours.
❌"I have no clue about copyright rules."
✅No problem, we will help you understand the basics and be ready to go!
❌"I can't draw cute stuff."
✅The Digital Product Creation for Professionals includes a big list of recommended illustrators, fonts, and clip art for commercial purposes.
❌"I do not have technology skills."
✅ If you can type you can create digital resources. Our templates will get you started right away.
❌"I do not have a website or social media accounts."
✅You can sell on The OT Toolbox, Your Therapy Source, TpT, Etsy and more.
❌"I do not have any money to start a side hustle."
✅You can create digital products with no additional financial investment except your time.
❌"The digital market is oversaturated."
✅Yes, it is to some degree. This Toolkit will help you choose resources that will sell. Some of our vendors make over $1000 per month!
Need help selling online?
No problem.
Imagine having the confidence and knowledge to create your own digital product that people will want to buy. With this Toolkit as your companion, you'll be able to take any of your ideas and turn them into a profitable online resource in no time.
Digital Product Creation for Professionals is a step-by-step process showing you how to make money from home with little or no experience.
This Toolkit contains everything you need to know about starting and selling digital products online so that you can start earning passive income today.
Learn from two content creators who have earned millions of dollars online and know exactly what it takes to get started. Don't waste any more time on ideas that won't work – let's get started today!
Once you create your resources, you own ALL THE RIGHTS. You can sell on our websites, TpT, Etsy, your own website, and more! Here is what some of our current vendors are saying:
"Always a nice surprise when I get my vendor payments each month for my PDF sales. Very grateful!"
-Your Therapy Source VENDOR
"I made a resource that my clients needed, and then I figured that others could probably use it too, to support their clients and therapy patients. I host the screening tool on The OT Toolbox and it sells every month! I love knowing that one PDF is being used everyday by others all over the world."
– The OT Toolbox VENDOR
"It is so easy to sell on Your Therapy Source. The process is super easy. I find my products sell much faster on YTS compared to Teachers Pay Teachers!"
-Your Therapy Source VENDOR
"I make at least $300 every month and all I had to do was send in a resource I made years ago. I love that I don't need to worry about marketing on Facebook or messing with an email list"
– The OT Toolbox VENDOR
One more time, here's everything you get when you purchase
➡️THE DIGITAL CONTENT CREATOR TOOLKIT⬅️
Brainstorming Worksheets: A complete printable workbook (over 40 pages) that walks you through coming up with digital products based on what you know.
Types of Digital Products: Pick the one that works best for you!
Technology Tutorial Handbook: Don't know how to make digital products? No problem. We show you exactly how with a library of technology tutorials.
How to Write an E-book in 30 Days: Put your experience, knowledge, and know-how down onto paper and publish and e-book this month!
Business Planning Tools: Don't get bogged down in the details! Use this toolset to select branding, a logo, and name for your business.
Product Planner: Use these tools to manage your time and work on your product creation in the minimal time you've got!
Jumpstart Your Digital Product: This massive template library has EVERYTHING you need to plug and go to make checklists, worksheets, forms, screening tools, handouts, e-books, chapter (textbooks), courses, webinars, workbooks, and MORE!
Fonts and Images Toolkit: Discover which fonts work best for digital products and where to find clipart for your digital creations.
How to Price and Market Your Resource: Learn insider secrets on pricing your resource so it will sell. And then find out HOW to market to buyers that NEED your product.
Submit Your Product to Online Marketplaces: There's no need to worry about building an extensive email list, creating Facebook ads, or worrying about getting your product in front of eyeballs. We do the work for you and sell to a HOT audience.
Social Media Template Library: Have a social media following? Use these hundreds of templates to plug in your product details and post immediately on Facebook, Instagram, TikTok, YouTube, Pinterest, and anywhere online!
How to Write Blog Posts: Use this tutorial to take your marketing a step further and create a blog post that explains the why behind your product.
BONUS: Background and PNG Frames- This template packet of PNG frames and background makes product creation easy!
TOOLKIT VALUED AT: $3,000
REGULAR PRICE: $999
Save and get MAJOR bonuses when you buy the Digital Product Creation for Professionals within the next 2 weeks.
Invest in the DIGITAL PRODUCT CREATION FOR PROFESSIONALS TOOLKIT today!