If you are in the market to sell digital products, Amazon is a great platform to reach a wide audience. Knowing where to begin or what you can actually sell can also be difficult. Here's what you need to know to generate passive income by selling digital products on Amazon.
In this video, you can listen in as we chat about our experience selling digital products on Amazon. We both sell on KDP and give you a first hand account of what works for us. Be sure to listen to our tips and ideas to get started selling digital products on the Amazon platform.
Can You Sell Digital Items on Amazon?
Yes, you can absolutely sell digital items on Amazon! Whether you want to market your own digital products to the world or search for additional revenue streams, Amazon offers many ways to sell digital products online.
Kindle Direct Publishing allows authors to publish digital books for readers around the globe. What's more, these options make it easy for individuals and businesses alike to market their online wares with minimal hassle. So if you're looking to make your mark on the ever-growing world of e-commerce, joining Amazon is a great place to start!
The digital downloads section of Amazon allows customers to purchase downloadable content such as movies and music, while the Amazon Apps & Games store provides purchasing access to software products like mobile apps, console games, PC software, and other gaming content.
If you create digital art or are a graphic designer, you can upload your designs to the Amazon Merch store for print-on-demand t-shirts and other merchandise.
Can You Sell PDFs on Amazon?
The answer to this question is yes and no. Yes, you can upload your properly formatted PDF to list in Kindle Direct Publishing. Customers can then purchase the Kindle version of your book to read electronically. They can not print or share your ebook.
If you have created a PDF that is meant to be printed, otherwise know as "printables" or maybe worksheets, Amazon is not the best platform for this. They used to have a program that allowed you to sell printables that was called Ignite. They recently ended this program in January of 2023.
If you sell printables, activity pages, or worksheets you are better off selling those at online marketplaces like Your Therapy Source, The OT Toolbox, TpT, or even physical products sold on Etsy Print on Demand.
Uploading your PDFs to create ebooks on Amazon is a great way for authors, web designers, presentation creators, and entrepreneurs to earn money by selling digital content. If you are selling an informational ebook, selling PDFs on Amazon can be an excellent opportunity for those interested in effectively monetizing their digital content.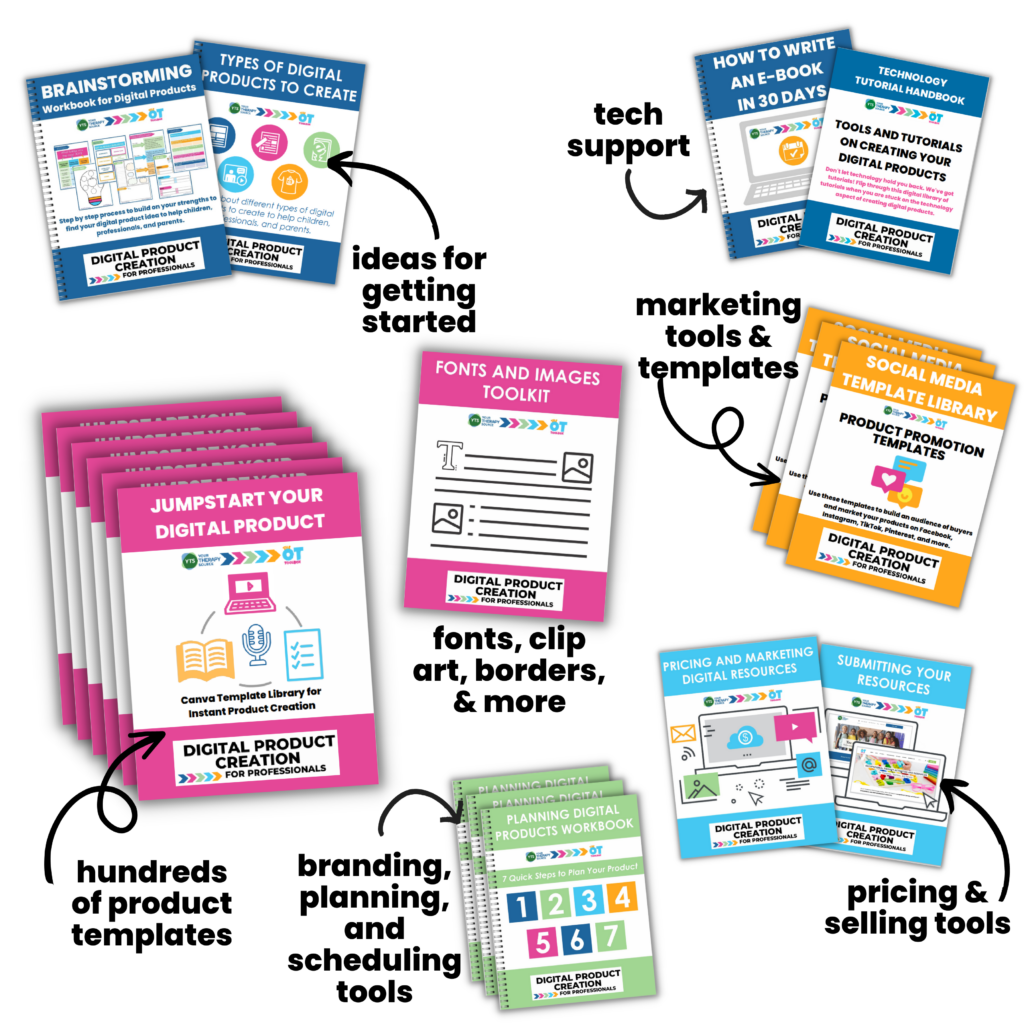 Digital Product Creation for Professionals Toolkit
How to Sell Digital Products on Amazon
Selling digital products on Amazon can be a great way to generate additional income and take advantage of Amazon's massive reach. One easy way to get started is by using Amazon's Kindle Direct Publishing (KDP) Program.
KDP makes it simple to upload your content and offers advanced features including setting DRM-protected access, rights and pricing levels, plus marketing tools and sales tracking capabilities.
However, sellers should be aware that many digital products are not eligible for sales on Amazon, so make sure that the content you're offering meets the necessary guidelines.
There are also potential fees for participating in KDP, so researching the program and all its options is key before getting started. With proper preparation and some effort, your digital products can be up on Amazon, ready to reach more customers than ever before!
Amazon has many helpful videos and how-tos if you need help getting started.
Ideas of Digital Products to Sell on Amazon for Educators
If you are a teacher, support staff, or other experienced professional, here are a few suggestions of digital products to create to sell on Amazon:
Informational ebooks for KDP
Lesson Plans on a specific topic that does not require printing
Teaching Strategies Ebooks
Self Care Ebooks
Digital audio products for other professionals or students to sell in the Audible app
Short informational ebook to help market online courses you have created
Digital artwork to sell merchandise to teachers or staff
Fun original learning songs for the classroom and more!
The Benefits of Selling Digital Products on Amazon
Selling digital products on Amazon can be an incredibly lucrative venture for entrepreneurs and small businesses. With the potential to reach millions of customers all over the world, Amazon is quickly becoming a go-to solution for monetizing digital assets.
As a website owner, using Amazon affiliate links to promote products listed on Amazon is just one revenue stream in the many ways a website makes money.
The abundant traffic Amazon receives ensures that any product has maximum visibility, and Amazon's algorithms help promote content that aligns with customer interests while keeping them engaged.
Sellers also have access to ample support from Amazon in terms of marketing materials as well as insights into their customer behavior and preferences. This allows for publishers to consistently refine their strategy for better results. Overall, selling digital products on Amazon is sure to provide tremendous value to creators and sellers if done strategically.
The best part of selling on Amazon is that they handle the automated delivery and customer service for you. They also have a HUGE audience of potential customers ready to purchase.
If you are a digital content creator, think of Amazon as one of the digital channels to sell ebooks, music, video content, or print-on-demand merchandise.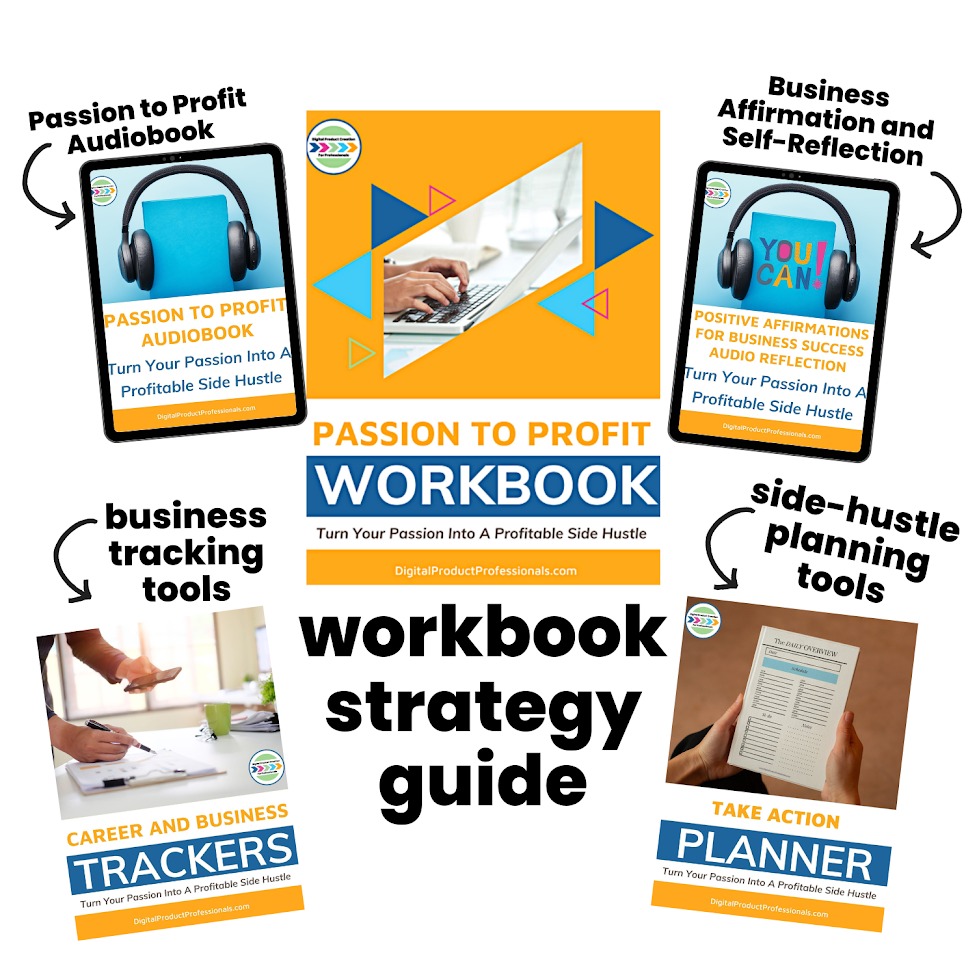 Passion to Profit Toolkit
The Drawbacks to Selling Digital Products on Amazon
Using KDP can help you to reach a wider audience for sure, but depending upon what type of digital products you create, it can be difficult.
Here are a few reasons not to sell your digital product on Amazon:
if you sell activities that need to be printed, this is not your best choice. You can not print KDP documents from your Kindle.
you have a very broad topic. There are millions of options in the Kindle store. It won't be easy to be discovered if you do not have a specific topic.
there is a learning curve to the platform. Your PDF does have to be formatted a certain way to be uploaded to the KDP store. You will need a cover image as well. You could always hire someone to do this for you, though.
you do not own your customer data, Amazon does. This makes it hard to market directly to your audience.
How to Get Started Selling Digital Products on Amazon
If you want to start selling digital products on Amazon, you'll need to create a seller account. You can easily do this by registering for an Amazon seller's account, which will allow you to sell various digital products including ebooks, audiobooks, physical products, music and videos.
From there, you'll need to decide which product you want to set up for sale and determine how much it should cost. Once you've settled on a price, you can upload the file to Amazon using their online tools and submit it for review.
After it has been approved, customers will be able to add it directly to their shopping cart when they place an order and complete their purchase with Amazon's secure payment system. With all the necessary steps taken care of, it's time to start advertising your product.
In conclusion, selling digital products on Amazon is a viable option that comes with several key benefits! If you have a PDF or another type of digital product that you think would do well on the world's largest marketplace, then don't hesitate to get started selling it.